Videos by Spiff and Phi are located in various places


Various projects by Spiff are on the Spiffy Productions page.
Early projects of Phi's are located on the Phi's Old Movie Page
Other collaborative projects are located on the Key Pixel webspace.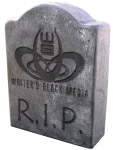 This is a salute to the site that was once Writer's Block Media.
Thanks for all your support hosting over the years Laszlo!